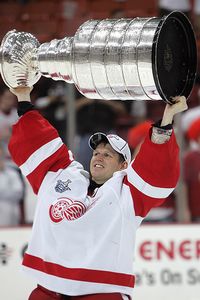 Last night's Stanley Cup Finals game six where the Detroit Red Wings won the Stanley Cup four games to two over the Pittsburgh penguins had over 7 million viewers in the preliminary overnights and was the highest rated game in the US in eight years.  It earned a 4.4/7 (rating share) during primetime (8p-11p ET) and was the best performance in a game six since a 2000 New Jersey/Dallas matchup had a 5.2/11.  It was a 100% increase over two years ago when Edmonton faced Carolina.  It was the highest ratings for NBC since they reacquired NHL in 2004.  NBC reports a peak rating of 5.3/9 from 10:30p-11:00pm ET.
Here are the local market top ten for the broadcast, led of course by Pittsburgh and Detroit.  Note: I know that these numbers are only for NBC viewing in Detroit. I'm trying to dig up the CBC numbers for the Detroit market from our friends at Nielsen so that I can give a full view of viewing for the Detroit local market. I've heard from many in Detroit that nobody there watches the games on NBC. 
That's obviously not true, judging from these numbers, but I agree it's better to give the full picture of the local market viewing including those watching via CBC,  and will add them if I get them:
WEDNESDAY'S TOP 10 MARKETS:
1. Pittsburgh, 37.4/51
2. Detroit, 30.6/45
3. Buffalo, 10.9/16
4. Denver, 6.6/11
5. St. Louis, 5.7/9
6. Richmond, 5.6/9
T7. Philadelphia, 5.5/9
T7. Columbus, 5.5/9
T9. Minneapolis, 5.1/10
T9. Fort Myers, 5.1/10
Just for the sake of clarity, the above rankings are by HH Rating and rank the top cities in terms of percentage viewing.  I know Richmond (Richmond-Petersburg, Va) is raising some eyebrows.  This just means that 5.5% of the television homes in the Richmond market were watching that game.  New York is the largest market with almost 7.4 million television homes according to Nielsen.  Richmond is the 59th market with only around 527,000 homes.  But 5.6% of the Richmond market would be eclipsed by a 1/2% rating in the New York Market in terms of total viewing.  But as a % more people in Richmond market watched.  
Here's a full list of the Nielsen Designated Market Areas with "people meters" so you can see the size of the various markets according to Nielsen.
Source: NBC