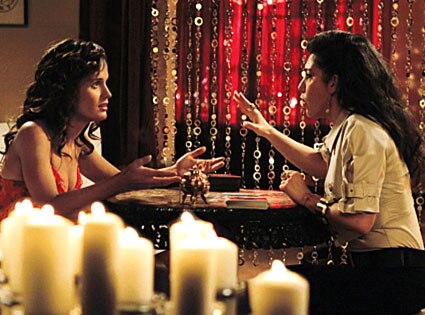 OK, please, somebody explain to me this most bizarre (dare I say, messed up) scheduling move of the fall: Two of this season's most promising new series-The Ex List and Crusoe-somehow ended up in the dirty slums of Friday night. Ew! - E! Online's Kristin Dos Santos in her fall preview for Friday night's new shows.
The vast wasteland that is Friday night broadcast network television may seem like a dirty slum to most, but for TVbytheNumbers, the Friday ghetto has probably generated the most passionate debates on the site.  Ah, what might have been if both Crusoe and The Ex List both aired at the same time.  Though we'll likely frame it as such anyway, Crusoe will air at 8pm (on NBC, beginning October 17) and The Ex List will air at 9pm (beginning October 3 on CBS).
And yes, Kristin did say that The Ex List looks promising.  And yet, after the post has been up on her blog for over an hour, there are not 300 comments assailing her from crazed fans of the show which must not be named.  WTF!? I chalk it up to summer doldrums pre-Labor Day.  I haven't seen the previews yet so I can't weigh-in on how promising it is, and I'm not sure I could or would even if I ever do watch it.  But the poll listed in the post (see link above) has The Ex List in the lead with over 58% of responses currently saying they'll watch the show, with another 22% saying they will DVR it.